Zucchini Muffins
Prep Time: 15 min
Cook Time: 25 min
Total Time: 40 min
Servings: 12 Muffins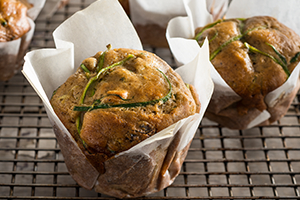 RECIPE

INGREDIENTS
1 1/4 cups cake-and-pastry flour
3/4 tsp baking soda
3/4 tsp baking powder
1 tsp ground cinnamon
1/2 tsp salt
1/4 tsp ground cloves
1/4 tsp ground nutmeg
3 eggs
1 cup light brown sugar
1 tsp vanilla
1 container (6 oz) plain yogurt
1/2 cup Filippo Berio Extra Light Olive Oil
2 cups finely shredded zucchini
1/2 cup raisins
RECIPE

DIRECTIONS
Preheat oven to 350°F. In large bowl, combine flour, baking soda, baking powder, cinnamon, salt, cloves and nutmeg; set aside.
In separate bowl, whisk together eggs, sugar and vanilla until smooth; blend in yogurt and olive oil. Mix in zucchini and raisins. Add to flour mixture; blend well.
Scoop batter into lightly greased muffin pan, filling cups three-quarters full. Bake for 25 minutes or until firm to the touch and golden brown.
Recipe provided by Chef Mary Ann Esposito