Watercress Salad with Grilled Scallops and Orange Dressing
Prep Time: 11 min
Cook Time: 4 min
Total Time: 15 min
Servings: 4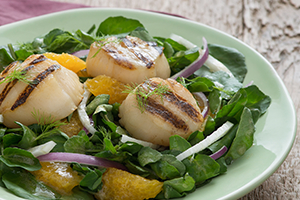 RECIPE

INGREDIENTS
Orange Dressing:
1/4 cup Filippo Berio Olive Oil
2 tbsp orange juice
2 tbsp red wine vinegar
1 tsp Dijon mustard
1 tsp honey
1 tsp finely grated orange zest
1/2 tsp salt
1/4 tsp freshly ground pepper
Watercress Salad:
12 scallops
1/4 cup Filippo Berio Olive Oil (approx.)
1/2 tsp salt
1/4 tsp freshly ground pepper
4 cups watercress, stems discarded (about 2 small bunches)
4 cups thinly sliced fennel (about 1 bulb)
1/2 red onion, sliced
2 oranges, peeled and segmented
2 tsp finely chopped fennel fronds (optional)
RECIPE

DIRECTIONS
Orange Dressing: In small bowl, whisk together olive oil, orange juice, red wine vinegar, mustard, honey, orange zest, salt and pepper until blended.
Watercress Salad:
Pat scallops dry; brush generously with olive oil and season with salt and pepper.
Place scallops on greased grill over high heat; close lid and grill, turning once, for about 4 minutes or until scallops are just opaque. Take care not to overcook.
In large bowl, toss watercress, fennel and red onion with 1/3 cup dressing. Stir in orange segments.
Divide among 4 plates; spoon scallops over top. Garnish with fennel fronds (if using). Serve with remaining dressing.