Spinach and Blackberry Salad
Prep Time: 10 min
Inactive Time: 3 min
Cook Time: 12 min
Total Time: 25 min
Servings: 4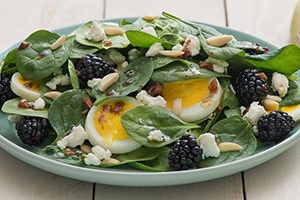 RECIPE

INGREDIENTS
Spinach Salad:
4 eggs
8 cups baby spinach
1/2 cup blackberries
1/3 cup crumbled goat cheese
1/4 cup slivered almonds
Blackberry Balsamic Vinaigrette:
3 tbsp Filippo Berio Delicato Extra Virgin Olive Oil
2 tbsp balsamic vinegar
1 tbsp blackberry preserves
1 small shallot, minced
1 tsp grainy mustard
1/2 tsp salt
1/4 tsp freshly ground pepper
RECIPE

DIRECTIONS
Blackberry Balsamic Vinaigrette: Whisk together olive oil, balsamic vinegar, blackberry preserves, shallot, mustard, salt and pepper. Set aside.
Spinach Salad:
In pot of simmering water, cook eggs for 12 minutes. Place under cold running water until eggs are cool enough to handle. Peel and slice into 1/4-inch-thick slices; set aside.
In large bowl, toss spinach with vinaigrette. Gently stir in blackberries and eggs; divide among four plates. Garnish with goat cheese and slivered almonds.