Spicy Asian Sesame Cucumber Salad
Prep Time: 5 min
Inactive Time: 15 min
Cook Time: N/A
Total Time: 20 min
Servings: 4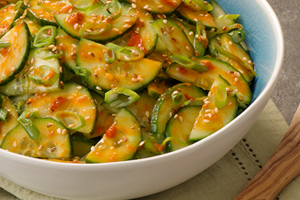 RECIPE

INGREDIENTS
1 English cucumber, ends trimmed
2 tbsp Filippo Berio White Wine Vinegar
1 tbsp Filippo Berio Spicy Tomato Pesto
1 tbsp soy sauce
1 tsp granulated sugar
1 tsp sesame oil
2 green onions, thinly sliced
1 tbsp toasted sesame seeds
RECIPE

DIRECTIONS
Cucumbers are thinly sliced and quickly pickled for an easy-to-make tasty condiment.
Halve cucumber lengthwise; slice each half into thin half-moons.
In bowl, whisk together white wine vinegar, spicy tomato pesto, soy sauce, sugar and sesame oil; toss with cucumber, green onions and sesame seeds. Let stand for 15 minutes or refrigerate for up to 2 hours.
Tip: Add 1 tbsp chopped fresh cilantro if desired.