Seared Tuna Salad with Sesame Vinaigrette
Prep Time: 13 min
Inactive Time: 5 min
Cook Time: 2 min
Total Time: 20 min
Servings: 4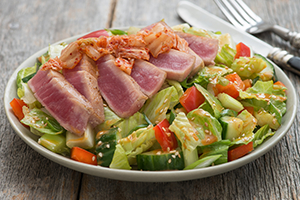 RECIPE

INGREDIENTS
Tuna Salad:
1 1/4 lb ahi tuna steaks (sushi grade), about 1-inch thick
3 tbsp Filippo Berio Olive Oil, divided
1/2 tsp salt
1/4 tsp freshly ground pepper
8 cups chopped romaine lettuce
1 cup cucumber, chopped
1 cup chopped red pepper (about 1 red pepper)
2 stalks celery, chopped
2 green onions, chopped
1/4 cup kimchee, chopped
1 tbsp toasted sesame seeds
Spicy Sesame Vinaigrette:
2 tbsp Filippo Berio Olive Oil
2 tbsp rice wine vinegar
1 tbsp tahini paste
1 tbsp soy sauce
1 tbsp minced fresh gingerroot
2 tsp brown sugar
1 clove garlic, minced
1 tsp sriracha hot sauce
RECIPE

DIRECTIONS
Spicy Sesame Vinaigrette: Whisk together olive oil, vinegar, tahini and soy sauce until blended. Stir in ginger, sugar, garlic and sriracha. Set aside.

Tuna Salad:
Coat tuna with 1 tbsp olive oil; sprinkle with salt and pepper. Heat remaining olive oil in large heavy-bottomed skillet set over high heat until shimmering; cook tuna for 30 to 60 seconds per side or until seared on the outside but rare on the inside. Let tuna rest for 5 minutes before slicing across the grain.
In large bowl, combine lettuce, cucumber, red pepper, celery and green onions; toss with vinaigrette. Divide salad among 4 plates; top with kimchee and sliced tuna. Garnish with sesame seeds.