Roasted Root Vegetables
Prep Time: 15 min
Cook Time: 50 min
Total Time: 1 hr 5 min
Servings: 8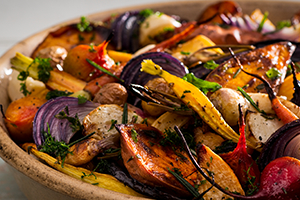 RECIPE

INGREDIENTS
6 cups assorted root vegetables (such as turnips, sweet potatoes, carrots, parsnips, baby beets or red onions), peeled and cut in 1-inch chunks
3 tbsp Filippo Berio Extra Virgin Olive Oil
6 garlic cloves, crushed
2 tbsp chopped fresh herbs (such as thyme, rosemary, sage, chervil)
Kosher salt
Freshly ground pepper
RECIPE

DIRECTIONS
Preheat oven to 400ºF. In large bowl, coat vegetables with olive oil. Transfer to foil-lined baking sheets, spreading vegetables in single layer.
Roast in 400°F oven for 45 minutes or until vegetables are tender when pierced with a fork. Remove from oven; add garlic to baking sheets and sprinkle with herbs. Return to oven for 5 to 10 minutes or until garlic is cooked. In serving dish, combine vegetables and season with salt and pepper to taste.
Tip: If using beets, keep them separated in a smaller bowl when coating with olive oil, as they may stain other vegetables.
Recipe provided by Chef Francesco Tonelli