Middle Eastern Couscous Salad with Lamb
Prep Time: 2 hr
Cook Time: 10 min
Total Time: 2 hr 10 min
Servings: 4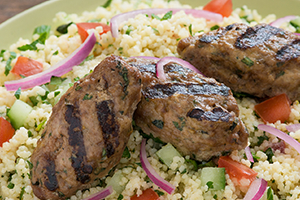 RECIPE

INGREDIENTS
Lamb Kofta Kabobs:
1 lb ground lamb
1 egg, beaten
2 tbsp lemon juice
2 tbsp finely chopped fresh mint
1 tbsp Filippo Berio Extra Virgin Olive Oil
2 cloves garlic, minced
1 tsp finely grated lemon zest
1 tsp salt
1 tsp ground cumin
1 tsp ground coriander
1/4 tsp ground cinnamon
1/4 tsp freshly ground pepper
Pickled Red Onion:
1/4 cup lime juice
1/2 tsp granulated sugar
1/2 tsp salt
1/2 red onion, sliced
Couscous Salad:
1/4 cup plain 2% yogurt
2 tbsp Filippo Berio Extra Virgin Olive Oil
2 tbsp lime juice
1 tsp lime zest
1 clove garlic, minced
1/2 tsp salt
1/4 tsp freshly ground pepper
2 cups cooked couscous
1 cup finely chopped tomato
1 cup finely chopped cucumber
2 tbsp chopped fresh mint
2 tbsp chopped fresh parsley
RECIPE

DIRECTIONS
Lamb Kofta Kabobs:
Soak bamboo skewers in water for 15 minutes. Mix together lamb, egg, lemon juice, mint, olive oil, garlic, lemon zest, salt, cumin, coriander, cinnamon and pepper until combined.
Preheat grill to medium-high heat; grease grate well. Shape lamb mixture by heaping 2 tablespoonfuls into small sausage shapes to make 12 kabobs; thread lengthwise onto skewers. Grill kabobs, turning occasionally, for 10 to 12 minutes or until cooked through and no longer pink inside.
Pickled Red Onion: Whisk together lime juice, sugar and salt until well combined. Add red onion; stir to coat, then cover and refrigerate for at least 1 hour or up to 2 days.
Couscous Salad: Whisk together yogurt, olive oil, lime juice, lime zest, garlic, salt and pepper. Combine couscous, tomato, cucumber, mint and parsley in large bowl. Toss with dressing and divide among 4 plates. Top with Lamb Kofta Kabobs and pickled onions.