Lentil Salad with Roasted Salmon
Prep Time: 20 min
Cook Time: 10 min
Total Time: 30 min
Servings: 4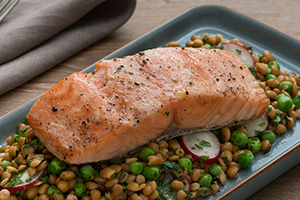 RECIPE

INGREDIENTS
4 salmon fillets (about 5 oz each)
2 tbsp Filippo Berio Olive Oil
1/2 tsp salt
1/4 tsp freshly ground pepper
1 can (14 oz) lentils, drained and rinsed
1 cup cooked peas
4 radishes, thinly sliced
2 tbsp chopped fresh parsley
12 fresh mint leaves, roughly torn
Lime-Mint Dressing:
3 tbsp lime juice
1 tbsp honey
1 clove garlic, minced
1 tsp finely grated lime zest
1/2 tsp Dijon mustard
1/2 tsp ground cumin
1/4 tsp each salt and freshly ground pepper
1/4 cup Filippo Berio Olive Oil
1 tbsp chopped fresh mint
RECIPE

DIRECTIONS
Lime-Mint Dressing: Whisk together lime juice, honey, garlic, lime zest, mustard, cumin, salt and pepper. Whisk in olive oil until blended; stir in mint.
Preheat oven to 425°F. Line baking sheet with parchment paper. Place salmon on top and drizzle with olive oil. Season with salt and pepper. Bake for 10 to 12 minutes or until just cooked through and fish is just starting to flake when tested with a fork.
Meanwhile, combine lentils, peas, radishes, parsley and mint in bowl. Toss with 1/3 cup Lime-Mint Dressing. Divide among 4 plates. Serve salmon over salad and serve with remaining dressing, if desired.