Lentil "Bolognese" with Macaroni
Prep Time: 20 min
Inactive Time: 5 min
Cook Time: 35 min
Total Time: 1 hr
Servings: 6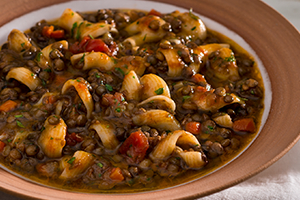 RECIPE

INGREDIENTS
1/4 cup Filippo Berio Extra Virgin Olive Oil
1 small onion, minced
1 small carrot, minced
1 stalk celery heart, finely diced
2 cloves garlic, finely diced
2 bay leaves
1 1/4 cups (8 oz) dried green lentils
Pinch of salt
Freshly ground pepper
1 can (14 1/2 oz) vegetable broth
2 1/2 cups water
6 canned San Marzano tomatoes with juice, coarsely chopped
1 cup maccheroni al torchio, elbow or similarly shaped pasta
3 tbsp minced fresh parsley
RECIPE

DIRECTIONS
Warm oil in Dutch oven set over medium-low heat; cook onion, carrot, celery, garlic and bay leaves, covered and stirring occasionally, for 10 minutes or until golden.
Stir in lentils, salt and pepper. Add broth, water and tomatoes. Bring to boil, reduce heat to medium-low; cover and cook for 20 minutes.
Add pasta and 2 tbsp parsley; cook, partially covered, for 6 minutes or until pasta is almost al dente. If mixture is dry, heat 1/2 cup water, adding just enough to moisten sauce. Let stand for 5 minutes; discard bay leaves. Sprinkle with remaining parsley.
Recipe Provided by Chef Sharon Sanders