Kale Tabbouleh Salad
Prep Time: 15 min
Cook Time: N/A
Total Time: 15 min
Servings: 4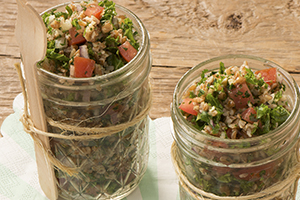 RECIPE

INGREDIENTS
Simple Vinaigrette:
1/3 cup Filippo Berio Robusto Extra Virgin Olive Oil
3 tbsp lemon juice
2 cloves garlic, minced
1 tsp ground cumin
1/2 tsp salt
1/4 tsp pepper
Tabbouleh Salad:
1 1/2 cups cooked bulgur
4 cups finely chopped kale, stems removed
2 Roma tomatoes, chopped
1 cup chopped fresh parsley
1/2 cup chopped fresh mint
1/3 cup finely chopped red onion
RECIPE

DIRECTIONS
Simple Vinaigrette: Whisk together olive oil, lemon juice, garlic, cumin, salt and pepper.
Tabbouleh Salad: Stir together bulgur, kale, tomatoes, parsley, mint and red onion. Toss with vinaigrette.
Tips:
For added protein, stir in 1 cup drained and rinsed lentils or sprinkle with 1/3 cup crumbled feta cheese.
If desired, chop herbs in food processor.
To get 1 1/2 cups of cooked bulgur, start with 1/2 cup raw and cook according to package directions.
Substitute quinoa for bulgur if desired.