Italian Wedding Soup
Prep Time: 20 min
Cook Time: 1 hr
Total Time: 1 hr 20 min
Servings: 12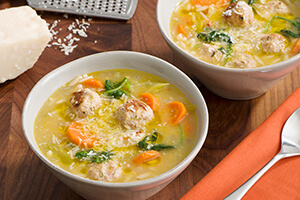 RECIPE

INGREDIENTS
Meatballs:
1 tbsp Filippo Berio California Extra Virgin Olive Oil
1/2 cup dry Italian seasoned breadcrumbs
1/4 cup grated Parmesan cheese
1/4 cup chopped fresh parsley
1 egg
1/4 tsp salt
1/4 tsp freshly ground pepper
8 oz ground chicken
8 oz chicken sausage, casings removed
Soup:
1/4 cup Filippo Berio California Extra Virgin Olive Oil
1 onion, chopped
3 carrots, peeled and cut into coins
3 stalks celery, sliced
4 cloves garlic, minced
1/4 tsp salt
1/4 tsp freshly ground pepper
1/4 tsp hot pepper flakes
8 cups sodium-reduced chicken broth
1 bay leaf
1 cup small pasta (such as ditali, orzo or acini de pepe)
1/2 cup grated Parmesan cheese (approx.)
6 cups baby spinach or kale
RECIPE

DIRECTIONS
Meatballs:
Preheat oven to 400°F. Line baking sheet with parchment paper. In large bowl, stir together breadcrumbs, Parmesan, parsley, egg, salt and pepper. Crumble in ground chicken and sausage; mix gently until combined.
Roll into 3/4-inch balls; arrange on prepared pan. Brush with olive oil; bake for 8 to 10 minutes or until lightly golden brown and almost cooked through. Let cool slightly.
Soup:
Meanwhile, heat olive oil in large saucepan or Dutch oven set over medium heat; cook onion, carrots and celery, stirring occasionally, for about 10 minutes or until softened. Add garlic, salt, pepper and hot pepper flakes; cook for 3 minutes.
Pour in broth and add bay leaf; bring to boil. Add meatballs and reduce heat to simmer; cook for about 30 minutes or until slightly reduced. Stir in pasta and Parmesan. Cook for about 10 minutes or until pasta is tender and soup is slightly thickened. Stir in spinach; cook for about 2 minutes or until wilted. Discard bay leaf.
Ladle into soup plates. Drizzle with olive oil and sprinkle with additional Parmesan before serving.
Tip: Add a piece of Parmesan rind to the broth to release its flavor during simmering. Discard before serving.