Greek-Style Roasted Sweet Potato Salad
Prep Time: 15 min
Cook Time: 30 min
Total Time: 45 min
Servings: 8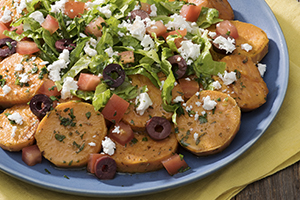 RECIPE

INGREDIENTS
Roasted Sweet Potato Salad:
3 tbsp Filippo Berio Extra Virgin Olive Oil
1 tbsp Filippo Berio Red Wine Vinegar
1 tsp dried oregano
1/2 tsp dried mint
2 cloves garlic, minced
1/2 tsp salt
1/4 tsp pepper
2 lb sweet potatoes, sliced into 1/2-inch rounds
1 cup shredded romaine lettuce
1 tomato, chopped
1/3 cup sliced pitted Kalamata olives
Red Wine Dressing:
1/4 cup Filippo Berio Extra Virgin Olive Oil
2 tbsp Filippo Berio Red Wine Vinegar
2 tbsp chopped fresh parsley
1 tsp honey
1 clove garlic, minced
1/4 tsp salt
1/4 tsp pepper
RECIPE

DIRECTIONS
Roasted Sweet Potato Salad: Preheat oven to 400˚F. Whisk together oil, vinegar, oregano, mint, garlic, salt and pepper; toss with potatoes until well coated. Arrange in single layer on parchment paper–lined baking sheet. Roast for about 30 minutes or until golden brown and tender.
Red Wine Dressing: Meanwhile, whisk together oil, vinegar, parsley, honey, garlic, salt and pepper.
Arrange sweet potatoes on serving platter. Top with lettuce, tomato and olives; drizzle with dressing.
Tips:
For traditional Greek flavor, sprinkle with crumbled feta cheese before serving.
Alternatively, cut sweet potatoes into wedges.