Filippo Berio's Traditional Cannoli
Prep Time: 2 hr 30 min
Cook Time: 25 min
Total Time: 3 hr
Servings: 12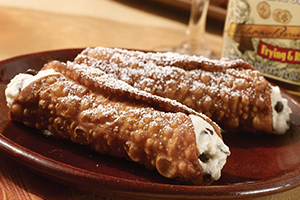 RECIPE

INGREDIENTS
2 1/2 cups all-purpose flour
1/2 cup cake-and-pastry flour
1 tbsp granulated sugar
1/4 tsp ground cinnamon
1/2 cup port wine (approx.)
2 eggs, slightly beaten (approx.)
1 tsp vanilla
2 cups Filippo Berio Extra Light Olive Oil, for frying
Filling:
1 cup ricotta cheese
2 tbsp amaretto liqueur
3 tbsp icing sugar (approx.)
Zest of 1/2 lemon, minced
3 tbsp mini chocolate chips
2 tbsp blanched almonds, finely chopped
Pinch ground cinnamon
RECIPE

DIRECTIONS
In large bowl, sift together all-purpose and cake-and-pastry flours, sugar and cinnamon. Add 1/2 cup port wine, 2 beaten eggs and vanilla; blend with pastry blender or fork, adding up to 1/4 cup more of the port wine if needed, until mixture can be formed into a ball. Knead by hand for about 10 minutes (or use electric mixer) until smooth and stiff.
Cover dough and refrigerate for 2 hours. Roll out one-third of the dough until very thin. Using small plate as a template, cut dough into 4-inch rounds. Wrap each cannoli tube with 1 round; seal edges by brushing with beaten egg.
In skillet large enough to hold 1 cannoli tube lengthwise, heat 2 cups of olive oil over medium-high heat until temperature reaches 350°F or until small piece of cannoli dough quickly floats to the top when dropped in. Cook each cannoli in the oil, turning, until golden brown on all sides; drain on paper towels. Remove tubes carefully; repeat with remaining rounds.
Filling: Mix together ricotta, amaretto, 3 tbsp icing sugar, lemon zest, chocolate chips, almonds and cinnamon; fill cannoli. Sprinkle cannoli with extra icing sugar.
Tips:
• If you like, you can use an equivalent amount of sugar substitute instead of sugar.
• You will need several metal cannoli tubes (available in kitchen supply stores) to make the cannoli.
Recipe provided by Jim Coleman, Executive Chef of Normandy Farm and Coleman Restaurant