Creamy Fennel Slaw
Prep Time: 10 min
Cook Time: N/A
Total Time: 10 min
Servings: 4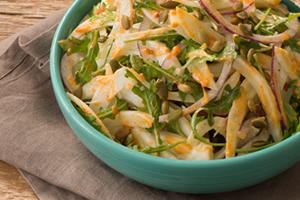 RECIPE

INGREDIENTS
Salad:
1 bulb fennel
6 cups baby arugula
1/2 red onion, thinly sliced
Tomato & Ricotta Pesto Dressing:
1/4 cup Filippo Berio Extra Virgin Olive Oil
2 tbsp lemon juice
1 tbsp Filippo Berio Tomato & Ricotta Pesto
1 shallot, minced
1/2 cup plain 2% regular or Greek yogurt
1/4 tsp salt
1/4 tsp pepper
1/4 cup toasted pumpkin seeds
RECIPE

DIRECTIONS
Salad: Remove stalks and fronds from fennel bulb and quarter bulb; slice thinly crosswise. In serving bowl, toss together fennel slices, arugula and red onion.
Tomato & Ricotta Pesto Dressing: Whisk together olive oil, lemon juice, pesto and shallot; whisk in yogurt, salt and pepper.
Drizzle dressing over salad; toss to coat well. Garnish with pumpkin seeds.
Tips:
Add fresh orange or grapefruit segments to salad if desired.
If preferred, replace pumpkin seeds with sunflower seeds.