Chili Con Carne
Prep Time: 10 min
Cook Time: 1 hr 20 min
Total Time: 1 hr 30 min
Servings: 4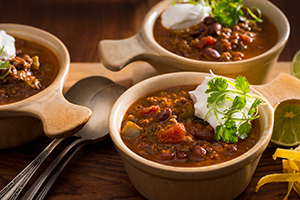 RECIPE

INGREDIENTS
1 lb lean ground beef
1/4 cup Filippo Berio Robusto Extra Virgin Olive Oil
1 large onion, diced
1 green bell pepper, diced
1 clove garlic, minced
2 tbsp chili powder
1/2 tsp ground cumin
1/2 tsp paprika
1 bay leaf
2 tbsp Filippo Berio red wine vinegar
4 cups water
2 cups chopped tomatoes
2 cups canned red kidney or pinto beans, rinsed and drained
Garnishes (optional):
Sour cream
Fresh cilantro
Corn tortillas
Lime wedges
RECIPE

DIRECTIONS
In Dutch oven or large saucepan over medium-high heat, brown beef, breaking apart with spatula. Using slotted spoon, transfer to plate and set aside. Drain fat from pan.
In same pan, heat olive oil over medium heat; sauté onion, green pepper and garlic; stir in beef. Sauté until vegetables are tender. Stir in chili powder, cumin, paprika, bay leaf and vinegar. Add water; cover and simmer for 45 minutes, stirring several times.
Remove bay leaf. Add tomatoes and cook for 15 minutes. Add beans and cook for 15 minutes. Garnish as desired.
Tip: To thicken the chili, remove some of the beans and mash with a fork, then return to the pot and stir well. Or, add 1 or 2 tbsp cornmeal to the chili and cook until thickened.
Recipe provided by The Low Cholesterol Olive Oil Cookbook