Chicken and Soba Noodle Pesto Salad
Prep Time: 10 min
Cook Time: 5 min
Total Time: 15 min
Servings: 6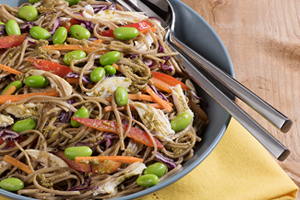 RECIPE

INGREDIENTS
Salad:
12 oz soba noodles
1 cup shredded cooked chicken
1 cup thinly sliced red cabbage
1 carrot, cut into matchsticks
1/2 red pepper, thinly sliced
1 cup cooked edamame
Pesto Dressing:
1/4 cup Filippo Berio Classic Pesto
3 tbsp Filippo Berio White Wine Vinegar
2 tbsp Filippo Berio Olive Oil
1/2 tsp salt
1/4 tsp pepper
RECIPE

DIRECTIONS
Salad: Cook soba noodles according to package directions.
Pesto Dressing: Meanwhile, whisk together pesto, vinegar, oil, salt and pepper.
Toss dressing with noodles. Stir in chicken, cabbage, carrot and red pepper. Arrange edamame over top.
Tips:
Use leftover rotisserie chicken, roasted or grilled chicken for the salad.
Substitute peas or sugar snap peas for edamame.
Substitute cooked shrimp for chicken if desired.