Chicken Fajitas
Prep Time: 1 hr 15 min
Cook Time: 15 min
Total Time: 1 hr 30 min
Servings: 4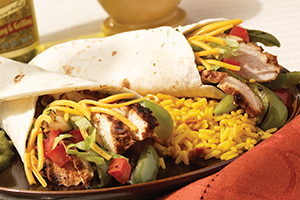 RECIPE

INGREDIENTS
1/4 cup Filippo Berio Extra Virgin Olive Oil
1/4 cup chopped fresh cilantro
2 tbsp fresh lime juice (keep rind)
1/2 tbsp chili powder
1/2 tsp ground cumin
12 oz boneless skinless chicken breasts or tofu
Salt
Freshly ground pepper
8 flour tortillas (8-inches diameter)
2 cups shredded lettuce
1 cup shredded Cheddar cheese
1 large tomato, chopped
1 sweet red pepper, seeded, grilled and julienned
1 onion, sliced and grilled
Salsa (optional)
Guacamole (optional)
RECIPE

DIRECTIONS
In shallow glass dish, combine olive oil, cilantro, lime juice, lime rind, chili powder and cumin; add chicken, turning to coat. Sprinkle with salt and pepper. Cover and refrigerate for 1 to 3 hours.
Drain chicken, reserving marinade. Preheat grill to medium heat; grease grate well. Grill chicken for 5 minutes; turn and brush with marinade. Grill for 7 to 10 minutes or until chicken is tender and no longer pink inside. Wrap tortillas in foil and heat on grill or in oven during last 5 minutes of cooking time.
Thinly slice chicken. Divide chicken, lettuce, Cheddar, tomato, red pepper and onion among tortillas; roll up tortillas. Serve with salsa and guacamole (if using).
Recipe provided by Chef Jim Coleman