All-Cheese Pizza
Prep Time: 30 min
Inactive Time: 5 min
Cook Time: 15 min
Total Time: 50 min
Servings: 4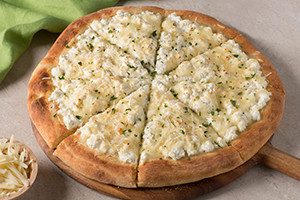 RECIPE

INGREDIENTS
1 Pizza Dough (click here for dough recipe)
1 tbsp fine cornmeal
2 tbsp Filippo Berio Extra Virgin Olive Oil
3 large cloves garlic, minced
1/2 cup part-skim ricotta cheese
3/4 cup shredded Gruyère cheese
1/4 cup grated Parmesan cheese
RECIPE

DIRECTIONS
Grease 12-inch round pizza pan with oil; sprinkle with cornmeal. Set aside.
Punch down dough; let stand on lightly floured work surface for 5 minutes. With lightly floured hands or rolling pin, pat or roll into 13-inch round. Transfer to prepared pan; fold edges over slightly to make rounded border. Cover with plastic wrap; let stand for 15 minutes or until slightly risen.
Preheat oven to 450°F. In small microwaveable bowl, place garlic and oil; cover with waxed paper. Microwave on high for about 90 seconds or until bubbly. Let stand, covered, for 10 minutes.
Drizzle some of the garlic oil over crust, spreading with back of spoon. Mix remaining garlic oil with ricotta; dollop over crust, spreading with back of spoon. Sprinkle evenly with Gruyère and Parmesan.
Bake for 15 minutes or until the cheeses are golden and bubbly. Transfer to rack; let cool for 5 minutes.
Tip: To save time, substitute one pound of thawed frozen commercial bread dough for the pizza dough.
Recipe Provided by Chef Sharon Sanders