Cheese Frittata with Tomato Basil Sauce
Prep Time: 10 min
Inactive Time: 3 min
Cook Time: 12 min
Total Time: 25 min
Servings: 6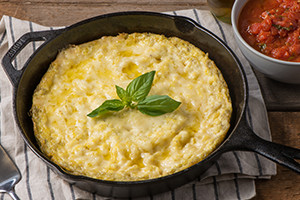 RECIPE

INGREDIENTS
8 to 12 eggs
1/2 cup water
1/4 tsp each salt and freshly ground pepper
2 tbsp Filippo Berio Extra Virgin Olive Oil divided
3/4 cup shredded Provolone cheese
Sauce:
2 tbsp Filippo Berio Extra Virgin Olive Oil
2 cloves garlic, minced
1 can (14 1/2 oz) diced tomatoes, with juice
1/4 cup slivered fresh basil
1/4 tsp salt
1/4 tsp freshly ground pepper
RECIPE

DIRECTIONS
Preheat broiler. In bowl, beat eggs, water, salt and pepper. Heat 2 tbsp olive oil in large, ovenproof skillet, preferably nonstick, set over medium-high heat; pour egg mixture into skillet. Cook for 3 to 4 minutes, lifting edges of the eggs as they set to let uncooked egg run underneath until bottom is set.
Sprinkle cheese over top; broil for about 3 minutes or until cheese is golden and bubbly. Slide onto platter or cut into wedges and transfer to plates. Set aside.
Sauce: Return skillet to stovetop over medium-low heat; cook oil and garlic, tipping pan to moisten garlic, for about 1 minute or until fragrant. Add tomatoes; increase heat to medium-high. Cook, stirring occasionally, for about 5 minutes or until slightly thickened. Add basil, salt and pepper. Spoon partially over frittata wedges.
Tip: Serve this frittata with crusty Italian bread.
Recipe Provided by Chef Sharon Sanders