Cauliflower Couscous Salad with Turmeric Lime Dressing
Prep Time: 25 min
Cook Time: N/A
Total Time: 25 min
Servings: 4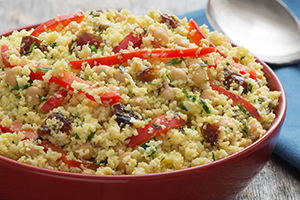 RECIPE

INGREDIENTS
Cauliflower Couscous Salad:
1 head cauliflower, core removed and cut into florets
1 can (15 oz) chickpeas, drained and rinsed
1/2 red pepper, thinly sliced
1/3 cup toasted cashews
1/3 cup chopped dates
1/4 cup chopped fresh parsley
4 cups mixed greens
Turmeric-Lime Dressing:
1/3 cup plain 2% yogurt
2 tbsp Filippo Berio Organic Extra Virgin Olive Oil
2 tbsp lime juice
1 clove garlic, minced
1/2 tsp ground turmeric
1/4 tsp ground cumin
1/4 tsp each salt and freshly ground pepper
RECIPE

DIRECTIONS
Cauliflower Couscous Salad: In food processor, pulse cauliflower until ground (cauliflower should resemble size and texture of couscous). Add to large bowl along with chickpeas, red pepper, cashews, dates and parsley.
Turmeric-Lime Dressing: Whisk together yogurt, olive oil, lime juice, garlic, turmeric, cumin, salt and pepper.
Toss salad with Turmeric-Lime Dressing; divide greens among 4 plates and top with salad.