Carnevale Lasagna
Prep Time: 25 min
Inactive Time: 10 min
Cook Time: 1 hr 10 min
Total Time: 1 hr 45 min
Servings: 8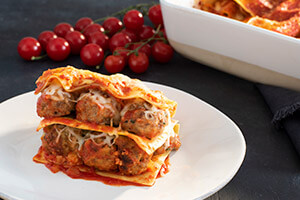 RECIPE

INGREDIENTS
Mini Meatballs:
1/2 lb lean ground beef
1/2 lb lean ground pork
1/2 cup bread crumbs
1/4 cup finely chopped fresh parsley
1/4 cup grated Parmesan cheese
2 tbsp milk
1 egg
1 clove garlic, minced
1/4 tsp each salt and pepper
1/4 cup Filippo Berio Extra Virgin Olive Oil
Quick Skillet Tomato Sauce:
1/4 cup Filippo Berio Extra Virgin Olive Oil
1 onion, diced
2 cloves garlic, thinly sliced
Pinch red chili flakes
1 jar (24 oz) strained puréed tomatoes (passata)
1/4 cup torn fresh basil
1/4 tsp each salt and pepper
Assembly:
12 oz fresh sheets lasagna (6 sheets)
3/4 cup Filippo Berio Ricotta and Tomato Pesto
2 cups shredded mozzarella cheese
1 cup grated Parmesan cheese
2 tbsp finely chopped fresh parsley
RECIPE

DIRECTIONS
Mini Meatballs: Mix together beef, pork, bread crumbs, parsley, Parmesan, milk, egg, garlic, salt and pepper. Roll into 1/2-inch mini meatballs.
Heat oil in large skillet set over medium heat; cook meatballs in batches for 8 to 10 minutes or until browned and cooked through.
Quick Skillet Tomato Sauce: Heat oil in large skillet set over medium heat; cook onion, garlic and chili flakes for 3 to 5 minutes or until slightly softened. Stir in tomatoes, basil, salt and pepper; bring to simmer. Reduce heat to medium-low; cook for 10 to 15 minutes or until thickened slightly.
Assembly: Preheat oven to 400˚F. Ladle 1/2 cup tomato sauce into greased 13- x 9-inch baking dish. Place 2 lasagna sheets on top, trimming to fit if needed. Ladle one-third of the tomato sauce, 1/4 cup pesto and half of the meatballs over top. Sprinkle with 1/2 cup mozzarella and 1/4 cup Parmesan cheese. Repeat layers.
Place 2 more lasagna sheets over top. Layer remaining tomato sauce, pesto, mozzarella and Parmesan cheese over top.
Cover with foil; bake for 30 minutes. Remove foil; bake for 15 to 20 minutes or until golden brown and bubbling. Let stand for 10 minutes. Sprinkle with parsley before serving.
Tip: Add a splash of red or white wine to the tomato sauce if desired.